Explorer - Custom Build
Build Your Custom Explorer
Fully Open Chassis Design
Full Range of Ultralabs Customisations
Supports Up to Nvidia RTX 4090
3 x 360mm Radiator Custom Loop Cooling System
535mm x 485mm x 373mm (L x W x H)
A TRUE WORK OF ART
The EXPLORER is the ultimate showcase PC, the ultimate combination of art and technology, it will be the centrepiece of any setup. The unique open-air design puts all your cutting-edge components on full display where they belong. We only use the highest-end parts in the EXPLORER, to ensure its performance matches its appearance.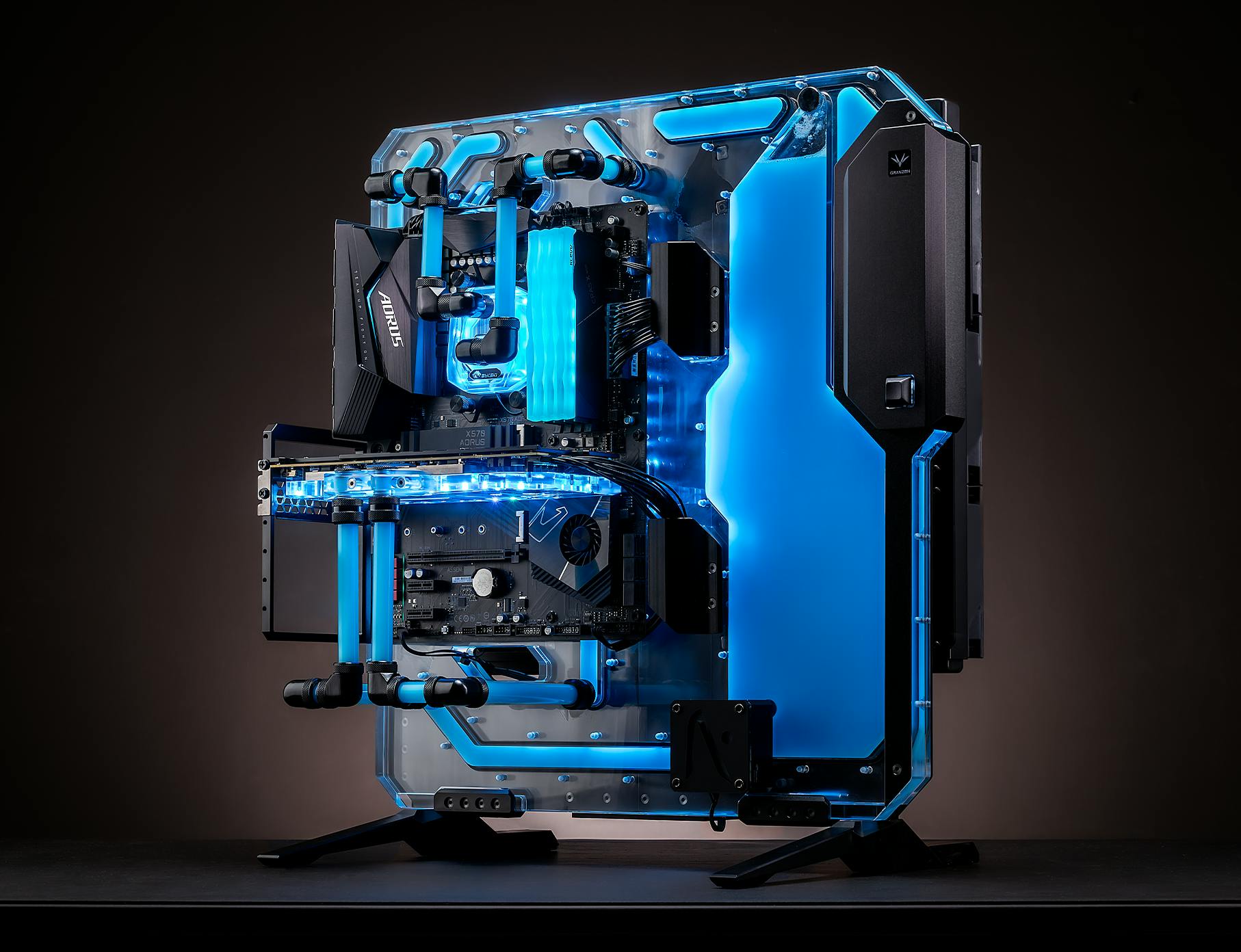 ONE OF A KIND COOLING SOLUTION
Every EXPLORER we make is custom made just for you - every open loop we design is hand-shaped and crafted to suit your specific build and provide the most beautiful cooling solution possible. We also offer a wide range of coolant colours so you can tailor your EXPLORER to suit any aesthetic.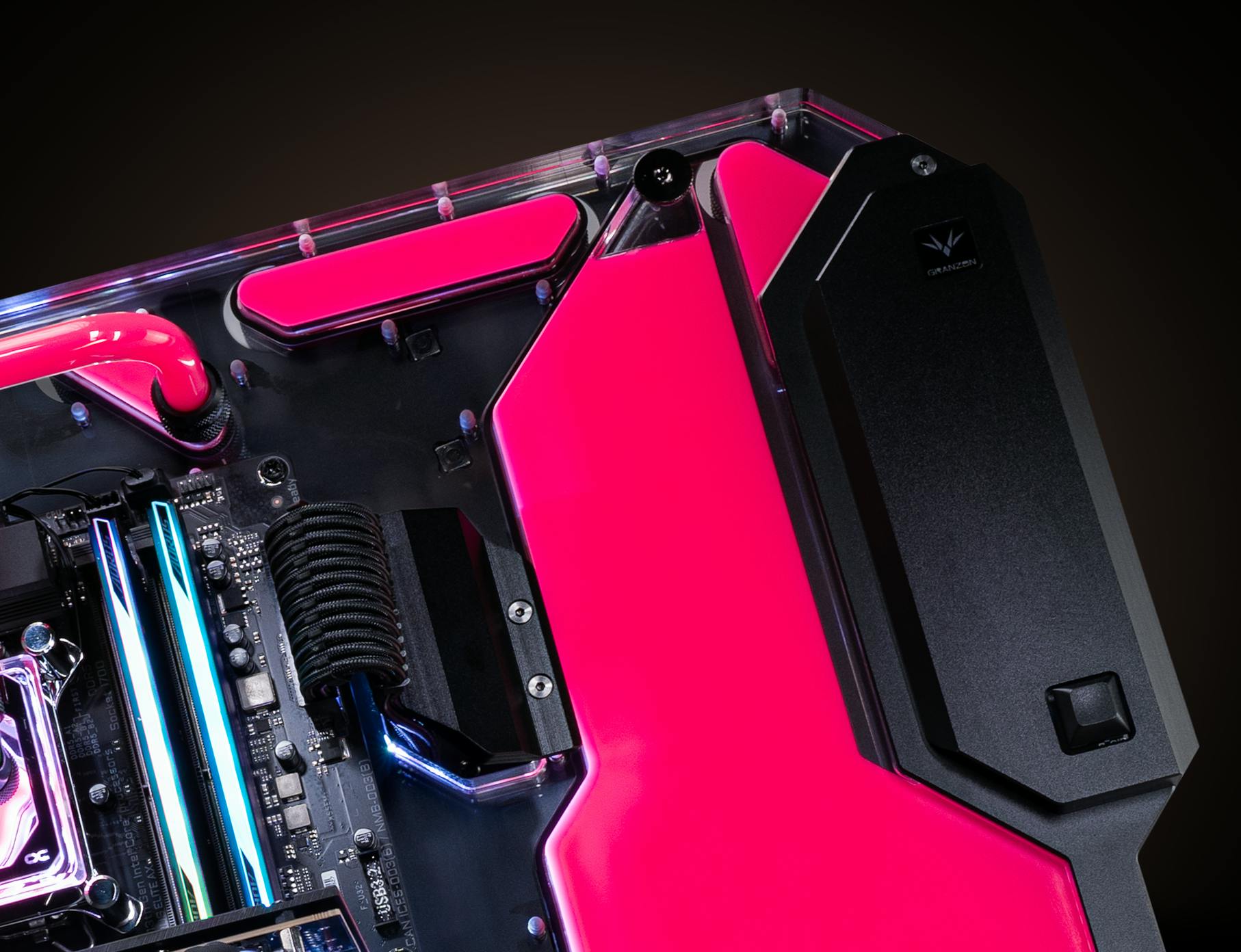 INNOVATION, SUBVERSION OF TRADITION
EXPLORER is the pinnacle of open-loop cooling innovation! With its cutting-edge fully case-integrated reservoir, this revolutionary system takes your cooling to the extreme. Prepare to embark on a journey of exquisite aesthetic possibilities as the EXPLORER showcases your coolant colour like never before making for unlimited styling possibilities.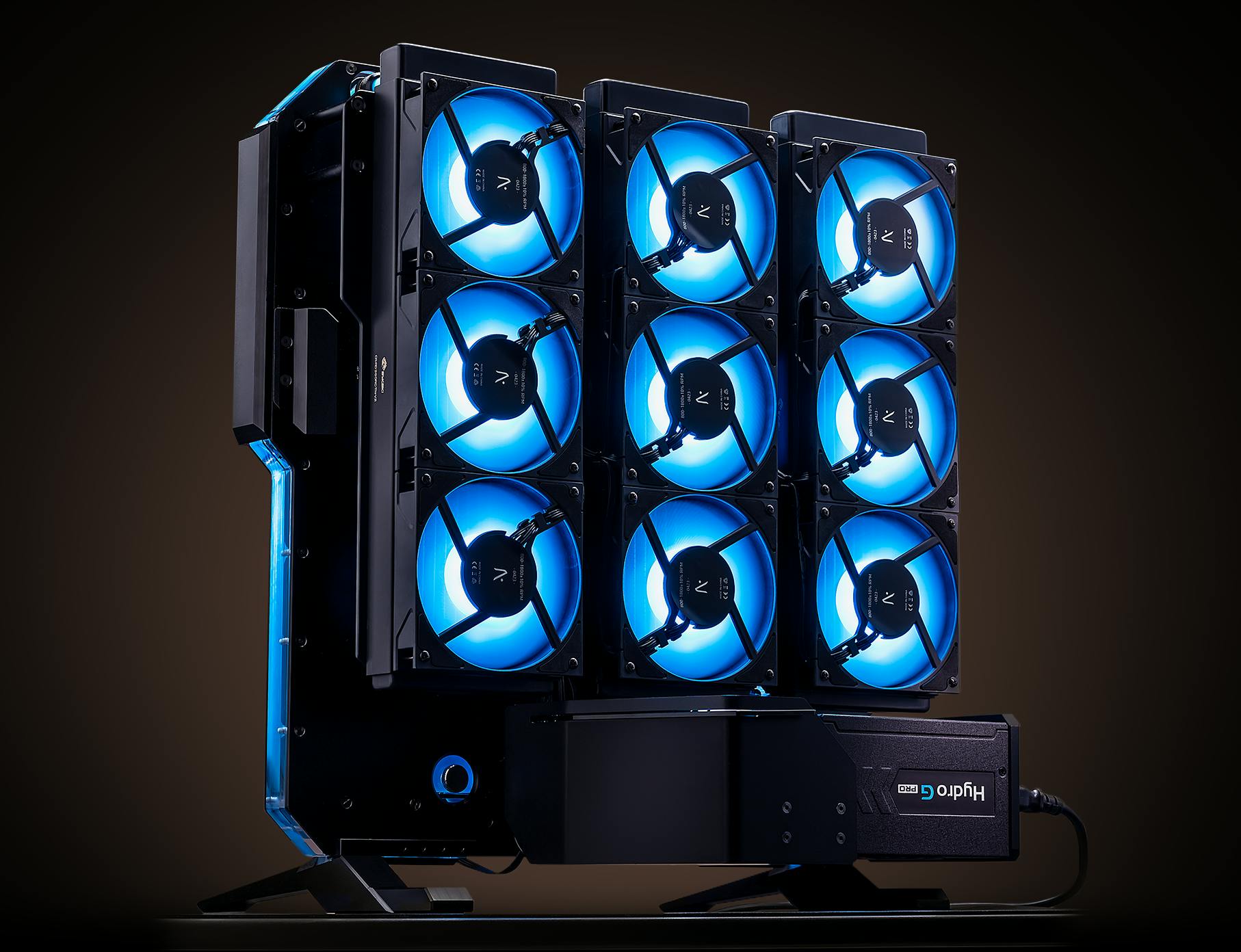 THOROUGHBRED PERFORMANCE & ENGINEERING
In a league of its own with full support for three 360mm radiators and a whopping 9 fans, achieve unparalleled cooling efficiency. Maximising the potential of your high-performance parts and unleashing your system's true greatness. Push the boundaries, go Aftershock PC!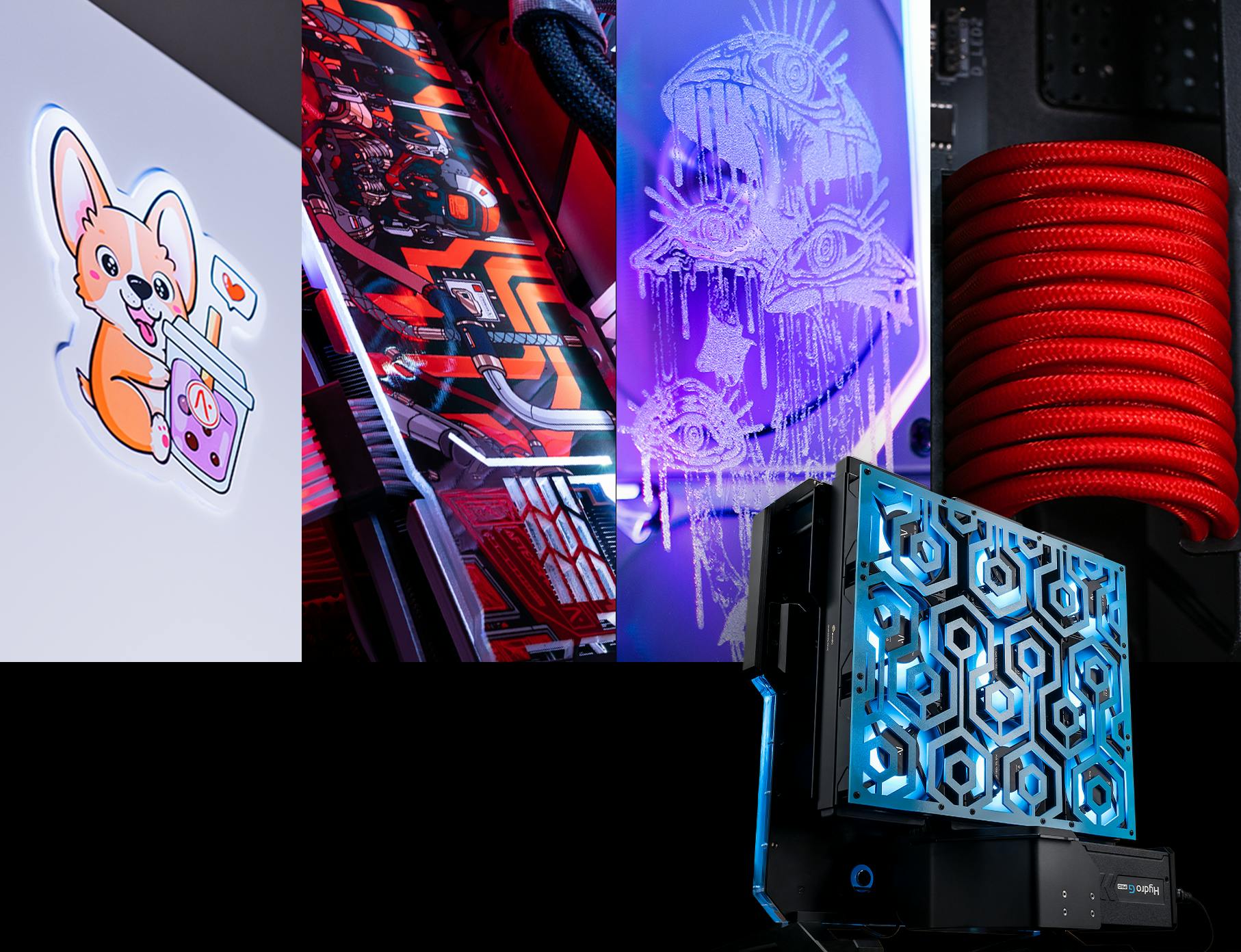 UNPRECEDENTED CUSTOMISATION
Elevate your PC aesthetics with our bespoke customization options. Adorn your rig with personalized printed decals, available in various sizes and a vibrant spectrum of colors. Explore our curated collection of artist-designed acrylic backplates or unleash your creativity by submitting your artwork for a unique touch. Showcase your individuality through intricately detailed laser engravings on glass panels. Say goodbye to mundane black plastic cables as you take your pick from an extensive array of colorful cable sleeves. Your Custom PC journey starts here, where imagination knows no bound!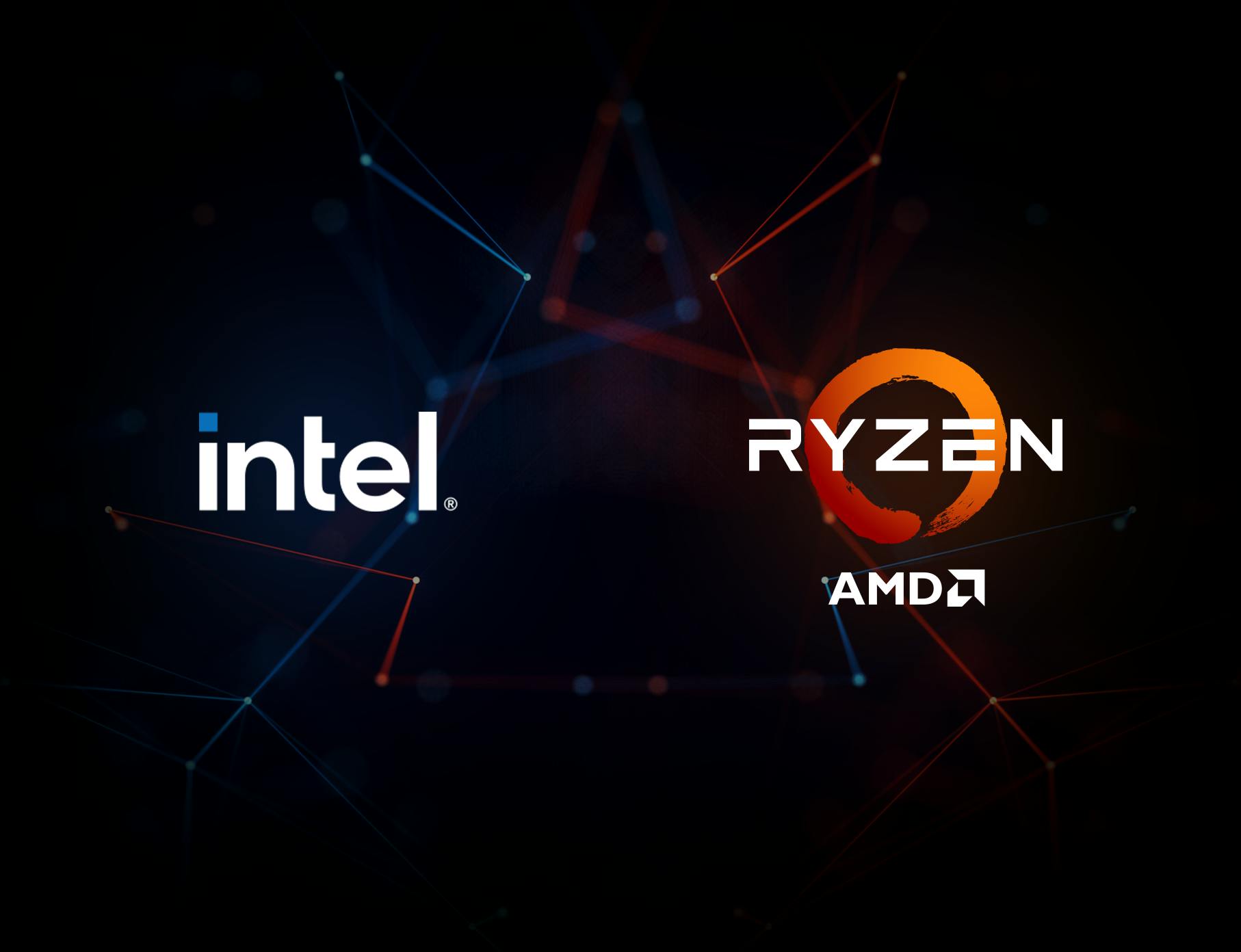 SELECT YOUR PROCESSOR
Choose between AMD and Intel chipsets to power your gaming or workflow needs. For extra power during intensive workloads or gaming sessions, Intel's Turbo Boost Technology can deliver additional power to your CPU for extra power during intensive workloads or gaming sessions. With AMD's SenseMI technology, Ryzen processors can optimize power consumption and CPU performance for gamers and content creators.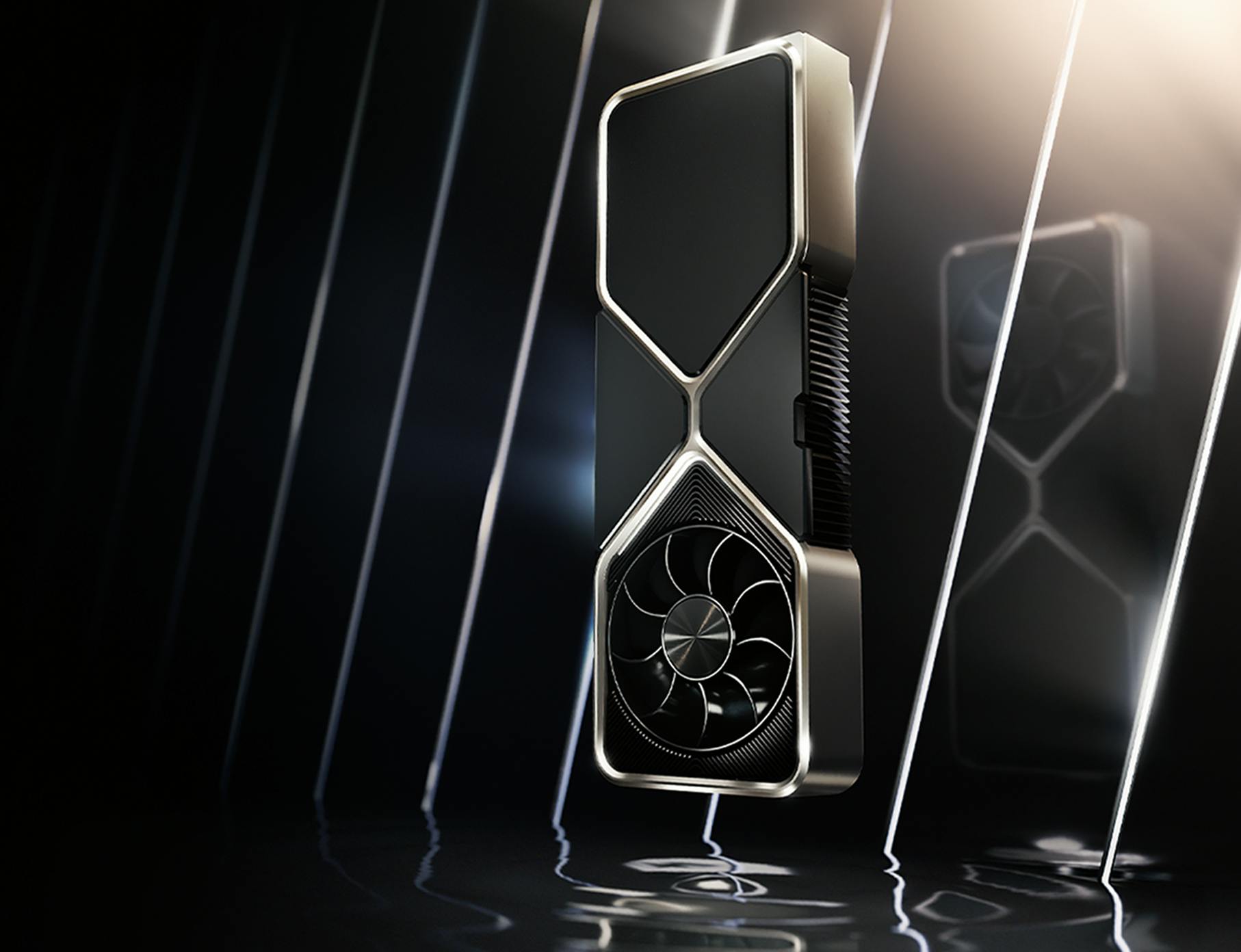 GEFORCE RTX™ 40-SERIES
Power your build with the latest graphic offerings from NVIDIA® GeForce®. Customise your PC with the latest GeForce RTX™ 40-Series GPUs, and game at 4K, for groundbreaking framerates and a blisteringly smooth experience running the most demanding titles.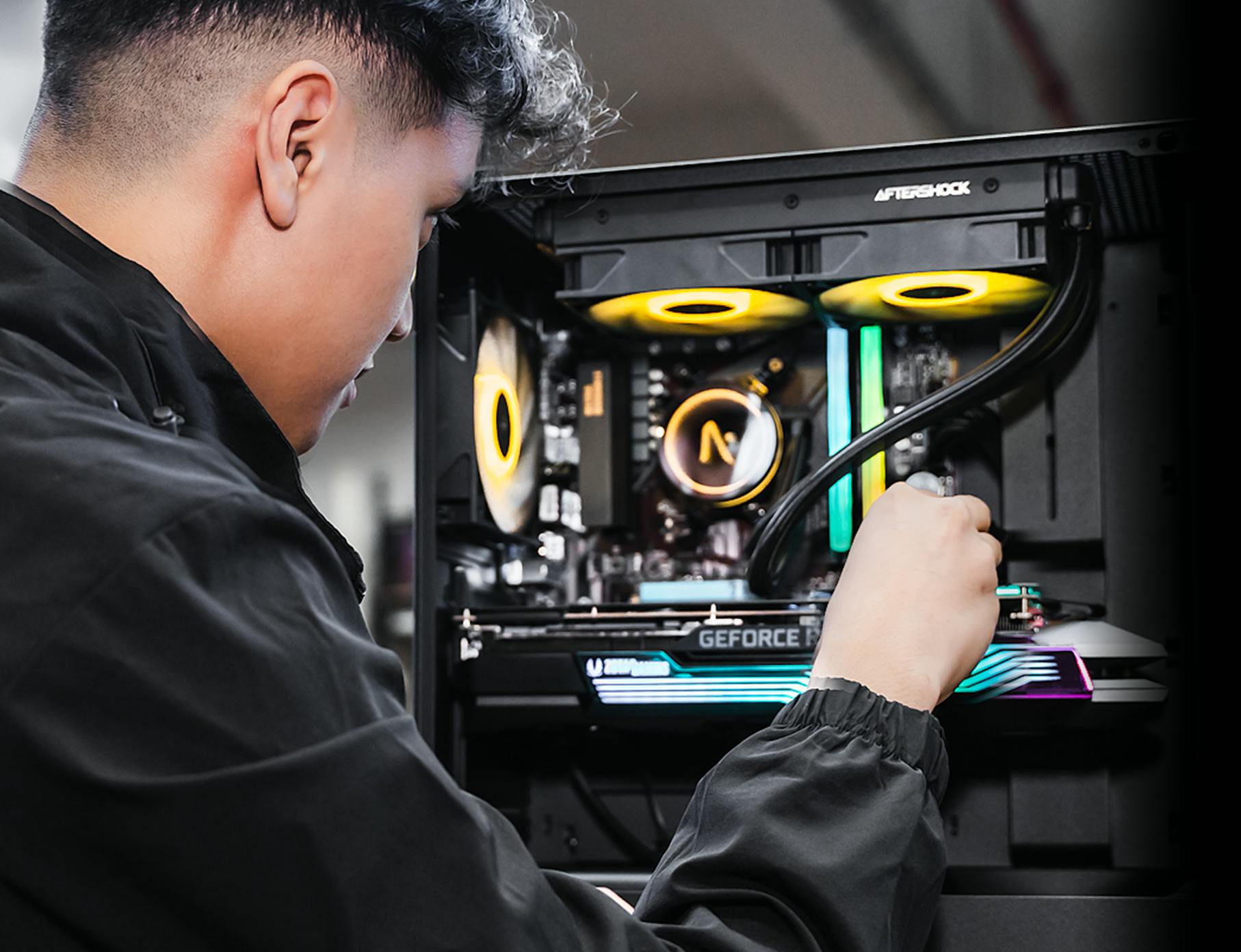 THE ULTIMATE CUSTOMER SERVICE & SUPPORT
Game and create worry-free with lifetime customer support powered by Singapore's largest Custom PC service team. At AFTERSHOCK PC, our commitment to the highest standards of customer care extends beyond purchase – our team of specialists and technicians work around the clock for a smooth and hassle-free ownership experience.